INTRODUCTION
This is a review of my own Sapphire 5850, which i know that is being presented a little late, but since i got my new monitor, i was made available of new resolutions (to me, at least) like 1920x1080, so i wanted to test the potential of my card at these resolutions.
BUT, KEEP IN MIND, DO NOT JUDGE THIS CARD BASED ON THIS REVIEW: WHY?
I'll tell you why
My processor is old, old enough that it used to bottleneck my old 4850, let alone 5850, so in many cases there is no huge improvement, in some, none at all
but as this is my personal review, i am posting results as i got them, nothing biased.
With many professional benchmarks out there over many sites dedicated to the purpose of reviewing hardware only, i ask you to consult them if you are going to purchase this card, cause they will tell you how good this performs when coupled with a good processor.
Enough talk, lets get started
SPECIFICATIONS
Process 40nm
Transistors 2.15 Billion
Engine Clock 725MHz
Stream Processors 1440
Compute performance 2.09TFlops
Texture Units 72
Texture Fillrate 53.2 Gtexel/s
ROP 32
Pixel Fillrate 23.2 Gpixel/s
Z/Stencil 92.8Gsamples/s
Memory Type GDDR5
Memory Clock 1000Mhz
Memory Data Rate 4.0 GB/s
Memory bandwidth 128.0 GB/s
Maximum Board Power 170watts
Idle Board Power 27watts
TEST SETUP
AMD Athlon64x2 6000+ @ 3.01 GHz
Gigabyte MA61-PME-S2
2GB DDR2 667MHz
Corsair VX450
Sapphire 5850 @ stock clocks [725/1000]
Sapphire 5850 Overclocked [925/1150]
ATI Catalyst 10.12
TESTING
Heaven Benchmark 2.1
Furmark
3d Mark vantage
3d Mark 11
Far Cry 2
GTA 4
Crysis
Overclocking
This part usually comes in the end, but i will be comparing the results at stock as well as overclocked card, so i am introducing it here
This Sapphire has been flashed to an ASUS BIOS, to enable voltage tweaking, for which i used ASUS SmartDoctor, and then i overclocked it the normal way
Here is a pic showing card at 925/1150, under 100% load with temperature at 73 and Fan at auto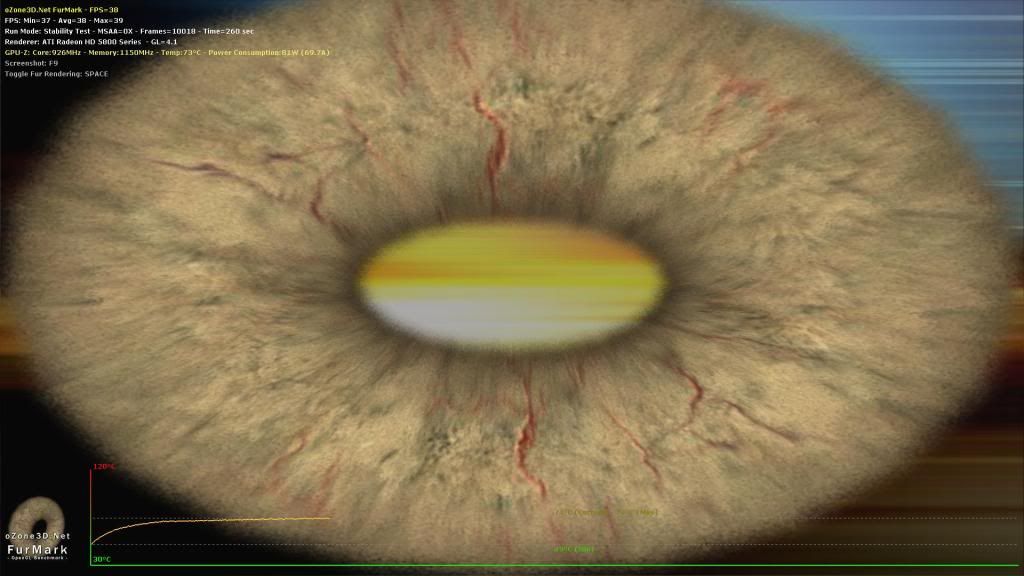 3D Mark Vantage: Results
5850 : 725/1000 [stock]
5850: 925/1150
5850 : 725/1000 [stock]
5850 : 925/1150
FURMARK :Results
5850: 725/1000 [stock]
Score -- 6398
5850: 925/1150
Score -- 7955
Heaven Benchmark Results
Default settings
5850: 725/1000 [stock]
Score - 679
5850: 925/1150
Score - 819
Far Cry 2
Settings: 1920x1080,ultra high,8x AA
5850: 725/1000 [stock]
5850: 925/1150
The reason in my belief for no improvement is because of the bottleneck by my processor
Crysis
Settings: 1920x1080,High,0xAA
Look at the last line of the image for results
5850: 725/1000 [stock]
5850: 925/1150
Again, my assumption is that processor is a (huge) bottleneck
GTA 4:
Settings:
Res =1920x1080
View Distance = 48
Detail Distance = 100
Other settings = High
5850: 725/100 [stock]
5850: 925/1150
This game, as we all know, is very CPU dependent, but it was showing some very good OC results
So, these are the applications i have reviewed, and i have arrived at these conclusions
This card overclocks like mad, as most of us know by now
i tried 1000/1250, but artifacting was uncontrollable
so i had to revert back to these clocks.
Till now, i am happy with my card, provided i have not seen its true colours till now,which wont happen till the time i dont buy a new processor
There are many games without in built benchmarks, but i use fraps to bench them.
Well, this was all, hope you find it useful.
These benchmarks have been performed on my new monitor, and i can tell you after using 15 inch CRT for 11 yrs, i am blown away at the difference
A pic of my desktop